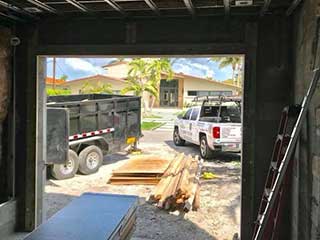 Insulation is a key factor when it comes to lowering your energy bill. While the rest of the house is well-insulated and keeps the temperature constant, residential garage doors are often regarded as problematic walls. They let air slip through, which changes the temperature inside the garage. In turn, this can change the temperature inside the home if they are connected.
The Challenges Of Insulation
At first, insulating the door may seem like an upgrade—but the incessant movement of the panels can quickly tear or otherwise damage or break the insulation. This means that it will have to be touched up now and again.
Don't Just Insulate The Door
There are additional ways of dealing with this issue inside the garage. The ceiling and the wall which connects to the house can also be insulated in order to increase energy efficiency. It is, of course, possible to insulate all of the walls within the garage, but this is only necessary in some cases...and sometimes only necessary if your garage is attached to your house.
Reflect On The Garage's Function
If your garage is used for anything else other than storage, insulating the entire room, as well as the floor, may be a viable option. This will decrease energy costs but can be difficult to do. You should definitely consult a professional in order to work out the details.
Time For A More Energy Efficient Door?
An uninsulated door will inevitably allow some air into the garage. One option is to replace the door completely and opt for one which comes with insulation built in. This will alleviate the problem, and may or may not exclude the need to work on the rest of the garage.
Consider Your Needs
The type and level of garage door insulation you're in need of will ultimately depend on your lifestyle and specific needs. An unattached garage used purely for storage may not need as much as one used for recreation
Regardless of your choice, your energy bill is likely to benefit from some extra insulation, and may also provide some additional sound-proofing. If you'd like to discuss your garage door insulation options in more detail, just get in touch with our professionals at Garage Door Repair Murrieta.